Main Page
The UESPWiki – Your source for The Elder Scrolls since 1995

Welcome to the Unofficial Elder Scrolls Pages! We have been building a collaborative source for all knowledge on the Elder Scrolls series since 1995, and we could use your help! To begin browsing our site, you should select one of the games on the left side menu. If you would like to help us build the site, you can learn how to get started as an editor, read over the help files, or look through our guide to helping out. If you'd like to discuss The Elder Scrolls with other users, please consider using the UESP forums or Discord server.
This site's purpose is to provide information; therefore, most of the content contains spoilers.
---
Latest News
The Elder Scrolls Online: Blackwood Soundtrack Released —

July 1, 2021
The Elder Scrolls Online: Deadlands Announced —

June 14, 2021
The Elder Scrolls Online: Blackwood Released —

June 5, 2021
The Elder Scrolls Online: Blackwood Chapter Preview —

April 15, 2021
Current Featured Article
Bretons are the human descendants of the Aldmeri-Nedic Manmer of the Merethic Era and are now the inhabitants of the province of High Rock. They are united in culture and language but divided politically. Bretons are known for proficiency in abstract thinking and have a quick and perceptive grasp of spellcraft, enchantment, and alchemy. (more...)
Current Featured Image
Did You Know...
... that according to an ancient Skaal legend described in The Guardian and the Traitor, Solstheim was created when it was sundered from the mainland during a several day long, devastatingly powerful magical duel after a dragon priest was seduced by Hermaeus Mora and fought against his dragon master?
... that most buildings in Skyrim are built partly underground to conserve heat, and are made primarily of stone, with wood used only for support, and roofs of straw above the wood?
... that The Black Horse Courier, Cyrodiil's only newspaper, is funded by the Elder Council and distributed for free to the population?
... that Legends was initially developed by Dire Wolf Digital, until the project was transferred to Sparkypants Studios a year after the game launched?
... that the Corprusarium is a place where people with the Corprus disease are experimented upon?
... that Skyrim is the first Elder Scrolls game in which the player's health regenerates on its own?
... that Sheogorath, the Daedric Prince of Madness, was actually Jyggalag, the Daedric Prince of Order, until the other Daedric Princes cursed him to live as the former?
... that Todd Howard voiced a test NPC in Oblivion?
Support UESP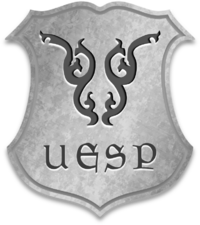 The UESP is one of the oldest independently-run gaming websites on the Internet, and has been supporting the Elder Scrolls community since 1995. You can support the UESP's continued operation through our Patreon, as well as receive various benefits. Another way to support UESP is to join the editors who help build the site. You can learn more about that here.